Inside, large, green bins were filled with surplus food from 450 supermarkets in the region. Soon, a conveyor belt would move them toward a giant metal claw. As the claw lifted each bin, the lid would swing open. Bruised apples, watermelon rinds, unsold hot dogs, and stale bagels would fall into a chute, initiating the process of turning grocery store waste into chicken feed.

Since the first package of Do Good Chicken hit retail shelves in April, the company estimates it has kept 11 million pounds of food out of landfills—and they're just getting started. Two additional facilities are in the works—in Fort Wayne, Indiana and Selma, North Carolina—and Kamine said he plans to eventually build one "in every major metropolitan area."
Mastodon Favs for November, 29th 2022
Very emotional and touching and fascinating. Definitely some uncanny valley for me as I read it, but I am very curious to try and replicate this for myself using many things I posted online decades ago.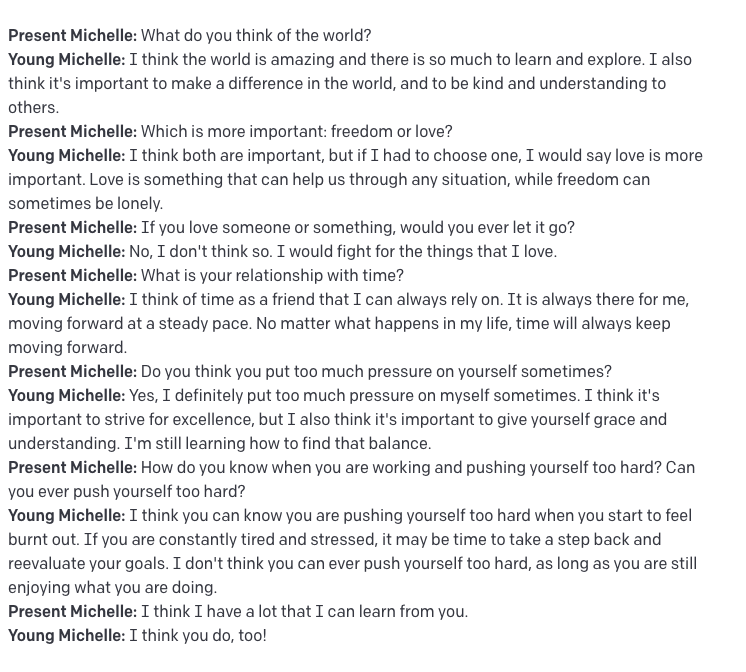 It wasn't just Mozilla to be fair:
Firefox Translations was developed with The Bergamot Project Consortium, coordinated by the University of Edinburgh with partners Charles University in Prague, the University of Sheffield, University of Tartu, and Mozilla. This project has received funding from the European Union's Horizon 2020 research and innovation programme under grant agreement No 825303.
British Paralympic athlete and surgeon John McFall will join the ESA's latest cohort of space travel candidates as a "parastronaut," the agency announced last week.

McFall, who is 41, had his right leg amputated after a motorcycle crash when he was 19 years old. Following his recovery, he learned how to run again and became a professional track and field athlete in 2005. Representing Great Britain and Northern Ireland, McFall competed as a Paralympic sprinter and went on to win numerous awards, including a bronze medal at the Paralympic Games in Beijing in 2008.
USA is through to the Round of 16 at the World Cup!
After missing the 2018 World Cup, it feels good to make it to the knockout stage once again. Bring on the Netherlands!
This page has turned out to be my go-to source for World Cup info and scheduling. It's a simple page layout, no ads, and has all the information I want.
Scalability explains a lot of what seems wrong with social media. Content moderation at scale needs to be semi-automated, which often means applying universal rules without context or nuance. And when abuse, harassment and misinformation drive engagement, the incentive is to address it in a way that doesn't threaten business. Lacking local knowledge in their users' languages and cultures, platform companies have aided political interference and even genocide.
But how can genuine community self-governance work at the scale of a global social network? We believe that it is time to embrace the old idea of subsidiarity, which dates back to early Calvinist theology and Catholic social teaching. The European Union's founding documents use the term, too. It means that in a large and interconnected system, people in a local community should have the power to address their own problems. Some decisions are made at higher levels, but only when necessary. Subsidiarity is about achieving the right balance between local units and the larger systems.
But the fediverse is not a utopia — it's just software. Though it facilitates community self-governance, it does not guarantee it. Most of the people entering the fediverse right now are flocking to a small number of popular servers. In effect, they are repeating the logic of scalability, except this time without a company in charge able to spend millions of dollars on large-scale moderation. Currently, many servers appear to be run top-down by people who have the technical skills to set them up, but not necessarily with the social and economic capacity to foster and sustain community self-governance and address online harm.
Subsidiarity is not a word I knew previously, definitely going to dig in on it. Below is its relevant Merriam Webster definition, not pulled from the above article.
Subsidiarity - n. - a principle in social organization holding that functions which are performed effectively by subordinate or local organizations belong more properly to them than to a dominant central organization
Edit: I found this evening, the author's own post on Mastodon.
Disgusting. I'm so sad and angry that this happened and that the repercussions will be minimal, if any.
Muddled audio is the top reason why more people are watching video with on-screen text, according to a May survey commissioned by language-teaching app Preply. As more video-production studios embrace advanced audio formats for at-home content, not every device can keep up. Plenty of viewers can't keep up, either. 
"If you have people talking or shouting during the adventure scenes, the explode-y sounds are way higher than the dialogue," said Melanie Brooks, a 43-year-old professional musician in Boston. Catching some of the lines in her favorite fantasy and adventure TV series is hard without captions, she added. 
What investors and others are debating now is whether Beyond Meat's struggles are specific to the company or a harbinger of deeper issues in the plant-based meat industry.

"At the category level, we're seeing volumes for plant-based meats down 22 consecutive months now," said John Baumgartner, a consumer food analyst at the financial institution Mizuho Americas.

A few years ago, investors expected the category to explode with growth year after year, Mr. Baumgartner said. Now, he said, those expectations are being reconsidered.
I have done exactly zero research on this, but I would bet it all is because of the cost difference and real meat still being the cheaper option.
📖 Review: Daisy Jones & The Six by Taylor Jenkins Reid
This isn't the normal sort of book for me, but I love Almost Famous and based on the blurb I read, it felt like it might be in the same space. The book is about a group of people, Daisy Jones, and the band, The Six. It's set in the 70s predominately and it takes you through the journeys of all the people, on a journey to stardom. The book is surprisingly touching and even brought me to tears. Overall I loved it and highly recommend it for folks.
Here are a handful of my favorite lines, none of which spoil anything for future readers.
---
I think you have to have faith in people before they earn it. Otherwise it's not faith, right?
I guess I'm saying… if you redeem yourself, then believe in your own redemption.
I'll tell you: If a friend lied to me the way I lie to myself, I'd say, "You're a shitty friend."
You can't love someone back to health and you can't hate someone back to health and no matter how right you are about something, it doesn't mean they will change their mind.
Mastodon Favs for November, 28th 2022